About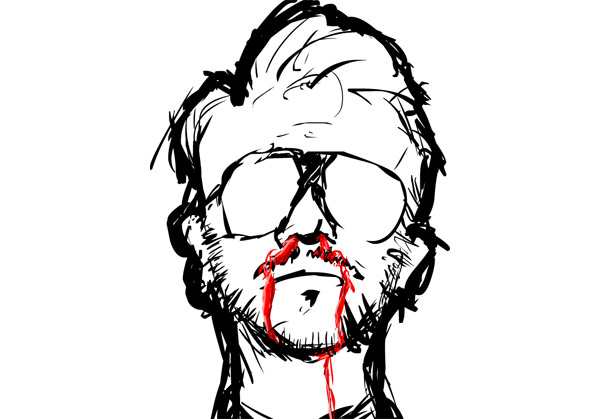 Happiness and Bloody Noses
"Hey Ant?"
"Yeah?"
"Your nose is bleeding again."
"Fuck."
There was something poetic I found in my constant nose bleeds. Something I imagined each time I looked at myself in the mirror and felt the blood running from my nose, going over my lips, and dripping into the sink of running water below. Perhaps I just finished wading off a gang of bad ass bikers to save the girl of my dreams and managed to escape only with a nose bleed. Maybe I just got back from my first Fight Club and now I'm staring at myself, assessing my fall into the renunciation of my material belongings. Maybe I was dying?
I looked down at the water swirling around in the sink along with the blood from my nose and it looked like a scene out of a horror film. I was in all these places all at once. My imagination made them real, I was the hero, the victim, the guy in search of himself, and the guy who found himself. Everything I am and I wanted I already had and was. With my imagination, I would be capable of doing anything.
That's what this is all about. It's as simple as that. It's as simple as imagining what you want and waiting for the reins of the world around you to take hold. It's the beauty of the mind. The beauty of what you're creating, because you ARE creating everything around you – what's important is to ask yourself: are you there to witness it and love it? cause… that, right there, is happiness.
My name is Anthony Imperioli and I wear many hats. I'm a comedian, an actor, I like to talk about philosophical things and I like to talk about Power Rangers. I like to direct films and videos both animated and live action. I'm a puppeteer and an animator. I'm a web designer and a t-shirt designer. I make funny videos for the internet and I make funny videos for my friends. I'm a brother, a son, and a boyfriend. I like singing and playing in a band (as of this writing I'm "okay" at playing a guitar, a piano, and a djembe but I plan to be "awesome"). I sometimes feel really good about myself and I sometimes feel pretty shitty with myself. I'm also okay with feeling both those things I just mentioned. I like the Internet, a lot (maybe too much). Making people happy is where I find my happiness. The world can disintegrate to hell but if I can make someone smile, it's all worth it. Everyday is a new learning experience and a new realization. And I appreciate to no end that YOU are part of this journey with me whether we both know it or not.
Life's purpose is happiness as long as we love the bloody noses along the way.