Snowboarding & LIFE.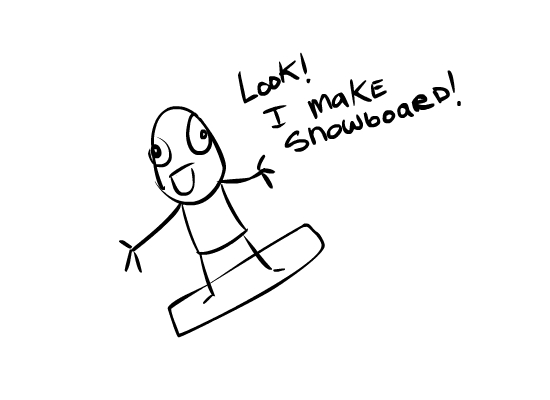 Fall after all. Stumble after stumble. Eventually, you get there. Eventually, you find that moment of peace where you're lying there in the snow, staring at the sky, snow flakes gently landing on your reddish cheeks. That moment lasts but a brief instance. It's gone just as you think, "Who the fuck thought it would be a good idea to strap both feet to a metal plank and decide to go down a steep snowy mountain in an attempt to reach the highest speeds possible?"
Seriously.
If you haven't guessed it, I tried snowboard for the 1st time in my life. Well, in reality, it was my 2nd time snowboarding but the 1st time was about 7 – 8 years ago so I don't know if that counts. From what I remembered during my first time snowboarding it took me 2 hours to complete one run and by the end of it I looked like Brendan Fraser's character in Encino Man when they first discover him. Needless to say, it didn't go very well… or maybe it did?
Snowboarding, you see, is a small and concise metaphor for life. I know I suck at snowboarding but sucking at something is part of learning something, right? Here's some lessons I took out from my 1st (or 2nd) time snowboarding:
1. You'll suck. And guess what? That's okay! I mean, everyone else sucked at one point. The most challenging part about snowboarding is getting past the "suck" stage and getting into the "hey, I'm doing pretty good" stage. When I first snapped the snowboard to my feet, I was pretty fucking scared. Immediately I was paranoid that every tree on that mountain would be out to block my path downwards. I swear, my mind went to the worst of places. Luckily, I had a friend who was also a beginner so I had someone to suck with. We were off to a great start as we both failed at getting off the chair lifts and ended up in a jumbled mess at the bottom of the tiny slope where the chairlift drops you off. We then proceeded to take 45 minutes, yes 45 MINUTES, to get from the chairlift to to top of the beginner's run. Well, what about the run itself? It consisted mostly of falling and then getting up, only to fall again. It was interspersed with moments where I found myself getting the hang of it only to think, "hey, I'm doing a little TOO good here and I'm gaining a little bit of speed. Best to throw myself on the floor to avoid injury or something." Yes, I was self-sabotaging my most successful attempts at snowboarding. Which was okay, because the more I got up, the more I pushed myself passed that moment of self-sabotage, the more confident I became in standing up while on a snowboard.
The Lesson: When you start doing something you WANT to do, chances are you won't be that great at it. But, who cares about that anyway? I mean, you're actually DOING something you want to do! With every fall and failure you learn to better yourself. Failure is not only a part of learning, it IS learning. Mandatory Confucius say: Confucius say: Our greatest glory is not in never falling, but in getting up every time we do.
2. Always remember the results you want. As I already said, one thing that's certain when you try snowboarding for the first time: you'll fall. Many many times. I was on the floor so much that I could probably count the times I was actually standing.  The best part this is that you have no choice but to get up. Seriously. You're stuck somewhere on a mountain with nothing around you but snow and forest. Yes, you CAN take off your snowboard and walk down the mountain but where's the fun in that? When I was sitting on my ass after having stumbled, I'd wait for the waves of people to clear up so I could go again ( I didn't want to smash into anyone). I kept watching the other snowboarders and seeing how they were able to just glide so effortlessly down the mountain. My friend Mike, who was a HUGE help in the betterment of my snowboarding ability, was able to go down the hill so easily. I ALSO wanted my effort in trying to snowboard to result in being able to scale the mountain in what looked like an effortless fashion. These were the results I wanted and it's in wanting THESE results that got me to get off my ass each time.
The Lesson: Know what you want and GO FOR IT! That's the key to success. Don't worry about the "how" just yet. Work on focusing on the results you want to obtain and the rest will figure itself out. Seriously, the universe is that awesome.
3. Learn about the experience of others. On my last run, I proudly spent more time standing up on my board than being stuck somewhere in a snowy ditch hoping a wolf won't eat me. At the final stretch at the bottom of the run I started picking up quite a bit of speed, in fact; I was going faster than I had gone all day. That's when my brain kicked in,
"Yo, dude, you're going a little fast."
"Shut up brain. I can't THINK now! Thinking's going to screw all this up," I replied.
"No, seriously, you're going fast dude. You're going to fall and hurt yourself," replied my brain.
"This is SERIOUSLY not a time for negative thinking," I told my brain.
Suddenly I felt a jolt in my legs, I tried to steady it which sent me quickly in the opposite direction, and in reaction to THAT move my board spun and clipped the edge of the hill. My whole body whipped to the ground in one smooth motion with my head being last in tow. The back of my head contacted with the ground at such a high speed that I saw stars for a moment. My life flashed back to 3 hours earlier when I was renting my snowboard equipment and my friend Eric asked the cashier, "It's my first time snowboarding, should I get a helmet?" To which she replied, "Nah, it's not necessary."
I stared at the sky, I had lost my hat somewhere in my stumble so my bare head lay on the icy ground. A headache pulsed through my entire head.
"Who the fuck thought it would be a good idea to strap both feet to a metal plank and decide to go down a steep snowy mountain in an attempt to reach the highest speed capable?" I thought.
The Lesson: Always get a helmet! Seriously! But more metaphorically: learn from others who have tried. There's a reason helmets exist just like there's a reason weird warning labels exist. Chances are there's someone who's probably already done some aspect of something you want to try doing and these people are amazing assets and a wealth of knowledge and experience to your learning. Learn about these people and what they faced. It can be anybody from your grandmother to Albert Einstein.